There are affiliate links in the post. For more information about our affiliate policy, click here.
As a content strategist I understand how to take every piece of content and turn it into products, traffic, or opt-ins. Taking reusable content such as a blog post and breaking it down into smaller pieces for social media or videos is known as repurposing content. It is what helps bloggers market their blogs in order to get traffic.
Repurposing content can also involve expanding on a post to create information products. I will explain more about that later on in the post. Right now I want to share with you how you can take your blog posts and share them differently on social media platforms.
Repurpose Blog Content to Video Content
YouTube videos are a great way to generate traffic to your blog. This can work for blog posts that specifically teach you how to do something. You can take your in depth tutorials and list posts to create, visual and teachable content. Here's an example. If you created a list post of 11 things, you can create 11 different videos on YouTube talking about each one of those sub topics from your blog posts.
Your in depth tutorials can become free training for the YouTube audience. All you're doing is taking your blog content and marketing it in a way that solves a problem for your target audience.
Get Traffic to Your Blog from YouTube
When uploading your video content on YouTube be sure to upload the file in the keyword topic of your video. Write your descriptions and video titles with keywords or key phrases that will help get you noticed. Also, make sure you link back to your relevant offers such as your blog posts, freebies, products or social media profiles.
Another thing that is recommended to help your YouTube channel and will bring traffic back to your site is using YouTube cards within your video.
Although you will be uploading your content to YouTube you should also be promoting your channel to gain subscribers. Your subscribers will be the ones watching your videos and going to your blog for more information. Don't miss this key step in getting more views back to your blog.
Check out this post on how to promote your YouTube Channel for free. 
Repurpose Your Blog Content for Social Media Posts
Repurposing your blog content for social media and traffic involves taking your best quotes to create shareable social media posts that links back to your blog.
Facebook, Twitter, Pinterest, and Intstagram are all social media platforms where you can post your best quotes as a social media post. The links and methods will look different. I will show you how.
Note: There are a number of tools you can use to create photos with text for your social media. I happen to use Canva and Pic Monkey when I am at my laptop. If I am creating the photos from my phone I use Typography on my iPhone.
Facebook
The dimension of Facebook photos should be 940 X 788. It's good to know this if you are using a program that does not automatically set the dimension to create the graphic. You need an eye catching photo that you know will resonate with your brand and audience.
Let's use this example. Using beautiful stock photos of feminine, curated desks is appealing most women who are into blogging or are online coaches. You can add your quote to the photo if this is your demographic and brand. Be sure to say something about the tip or copy and paste some part of your blog post containing that quote with a link back to your blog. This can also be done with the slide show feature in Facebook. Since Facebook loves video we should be creating more video content to reach our audience.
Twitter
The dimension for photos in Twitter are 1024×512. I usually like to use Canva to create my Twitter posts. Since you will only have 140 characters to post your photo you will need to condense you headline and call to action to get people to click on your link. It has been proven that photos get retweeted and liked 313% more than just text Tweets. This really should be apart of your strategy on Twitter. Also, with the use of a well researched hashtag you can create even more reach when you enter those conversations with your photo and link. 
Instagram
Depending on your Instagram strategy you can certainly use a photo with text to get the attention of your followers. I was advised not to overly use this strategy on Instagram. However, there are still account holders who market their businesses in this manner and it is just fine. The photo dimension for Instagram is 1080 X 1080. Canva conveniently sets the dimensions for you. You will have to email the picture to yourself and download it to your phone when using Canva. Otherwise you can use apps from your phone, like Typography, in order to create photos with text. You only have one opportunity to drive people to your link with your posts. Therefore, you must have a call to action to direct people to the link in your bio that leads them to your blog content.
Pinterest
Pinterest is the best place for you to market your blog content especially if you are a woman. There is a growing number of men jumping on the platform however it still remains targeted toward women users.
Pinterest has worked hard to have an algorithm that only allows you to see pins that are relative to your interests. I enjoy being on there a lot more now since they have changed. And, this can work in your favor as a blogger. The photo dimensions are 735 x 1102. Vertical images work best now compared to when it first started.
Repurposing your content for Pinterest works by having text with photos that will appeal to your reader. Like I said before it is geared toward women, so the bright colors, curated desks, flowers and photos that make you feel some sort of emotion something works well on this platform. Anytime you create a blog post you should create a pinnable image so that others can save your posts for later. You should also be thinking about ways you can create different pins with the title that links back to your blog. If you created a list post then you can create a pin that tells what's in the list. It gives people a since of what your blog post is about. Infographics can also work well with sharing your blog posts on Pinterest.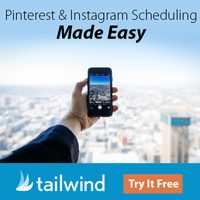 Repurpose Your Blog Content by Hosting a Webinar
Epic blog content can be made into a webinar. You would think that every one would read your blog posts, but it is not true. If you are getting traffic to your blog,  it is going to multiple places on your blog, not just to one particular post. Hosting a webinar teaching on a specific blog post will assist you in building your email list. When it is over you can repurpose that content to YouTube as a tutorial. It will truly set your content and traffic on autopilot. Viewers will naturally want to learn more about the person who posted the video. So, they will be more inclined to click on a link to a product or a blog post if you choose.
Repurpose Your Blog Content into Digital Products and eBooks
Writing extremely long blog posts are not recommended. If your post is going to be 3,000 words and over you will either have to break up the post or create a small eBook to sell at a small price. You can host the eBook on your platform and stylize it so your readers feel as if they are receiving a very personable experience. You can easily create your own digital store with Gumroad. 
Here is a bonus tip. To increase your sells and revenue create affiliate links for your products. You can do this inside of Gumroad as well.
Infographics
We are living in a world of visual content these days. If people can read your blog posts and get the message in a minute or less by reading your content then people will share and that will drive traffic to your site. This type of content can be made with Canva. It can also be made using other tools. Post these directly on your blog to reinforce your lesson, have it available for others to post on their blog, and you can put them on Pinterest.
Check out Jeff Bullas recommended tools for creating infographics. 
Note: I have tried creating infographics before and it didn't go so well. So, I will he hiring someone to do it for me.
As you can see I know tons of ways you can start repurposing your content for social media so you can get traffic back to your blog. If you enjoyed this post be sure to share or come hang out with me in my group. Make sure we stay connected.