This post contains affiliate links for more information click here.
Social media and blogging go hand in hand. Many bloggers know this and can experience a certain level of frustration when their followers are not growing. Somehow a growing number of followers means that your blog is growing. Well, not quite, but it is a great indicator.
Social media is the best way you can connect people to your blog. It's where the people are. You're consistently sharing your wins, personal stories, maybe blog stories, and blog posts with friends already. Naturally, it is the best way to promote your blog posts and bring in more traffic. 
In this post I am going to share what I have personally learned from years of being on social media and the benefits of using social media to market your blog. After all, would you stop a total stranger in the mall to have them read your blog post on your cell phone? That would be awkward.
I'm also going to share free and paid resources to help you get better and feel better about marketing your blog on social media. Be sure to bookmark and pin this post to refer to later so you can always come back for the resources when needed.
The Benefits of Using Social Media Marketing for Your Blog
Social media will give your blog a number of benefits. Here are some:
You can build your reputation as an expert by sharing informative and valuable information.

You can build a closer connection to your audience. You'll have access to communication in the places they hang out the most. Imagine if your audience really adores you and you personally respond to questions. That would go over well with your social media following.

Social media is a gateway to increasing your blog traffic. Sharing your content on your favorite social media platforms allows others that are interested in your type of content to find you. Never neglect putting your links out there so people can find your stuff. I know this works because I am always finding new bloggers that I love. And, I find them on Facebook.

Build your email list by sharing your landing pages that lead to your free offers.

You will get found in the search engines. If people are searching for your content or for your name. They may stumble upon a Twitter or Pinterest account, for example.

You can find new clients or customers through social media.
These benefits are all the more reason for you to really concentrate on growing your blog and your social media followers.
Each social media platform has a different culture and a different way of doing things. Understanding this will allow you to be able to truly know how to operate within those social circles. I call it a culture. Other people might call it best practices. Let's take a look at the five main social media platforms that bloggers use to promote their posts.
First up is Facebook. Before we get into that here is a free resource from Hootsuite. You can learn about social media marketing at no cost to you. If you want to be certified you'll have to pay. The free courses are worth it. Hootsuite Academy.
Facebook
I love this particular platform because there are options when it comes to sharing your content. As a blogger you should have your own Facebook business page. This is so your content can be found through the Facebook search if anyone is looking for your particular topic. Also, you should have one in case you feel the need to begin advertising.
I have found, as most of you have, that blogging groups on Facebook are the absolute best when it comes to promoting content. There is always a blogger in these groups that could be in your target audience. They might find your content engaging. They may even subscribe to be a part of your list.
We have a growing number of stay at home moms in my group and a few dads too. They all blog about different subjects and are interested in different niches. I learn something new from them all of the time. That is why blogging groups on Facebook are beneficial.
I reach out to blogging groups a lot because I want to help bloggers. My content reflects that.
I don't have a lot of followers on my Facebook page because I choose to. Groups have helped me to gain more visibility. And I like Twitter the most for promoting my blog.
Twitter
Speaking of Twitter, I believe this is the most underrated social media platform for bloggers. Many don't understand it. I will admit that it can be hard to wrap your mind around the concept of only typing in 140 characters. However, I decided to make Twitter a priority. It runs like this:
If you want friends/followers you must show yourself friendly. So follow people in your niche. One way you can easily find friends is to look at Tweet Deck. You can find relevant people to follow that are using a hashtag that you are already using. Search for them in real time so you know they are active on Twitter and engage with them.
I have a video on using Tweet Deck. Make sure you take a look at it so you can see for yourself how to insert yourself into conversations and find new followers.
Also, tweets last for 30 seconds to a minute. It is a bit fast paced but if you automate your postings you will tend to get more out of Twitter. I like to use a tool called Post Planner. You can save time and energy posting to Twitter just by using this tool. Simply share a photo they have in their system, share a relevant article, or do a status update with a famous quote. It is all done for you.
Note: Post Planner also works well with Facebook. Take a look at this brief tour on Post Planner to help you get a sense of all of the features of Post Planner and how it can help with posting to Twitter or Facebook.
The best part about having Tweets that last for a short time is that you can send out links to your blog consistently. Don't worry about being spammy. Most people will not even see your Tweets. That is why it is important to send out as many Tweets to your posts as possible if you are driving traffic to your blog. All you have to do is simply change the copy of the Tweet.
I have an entire training on using Twitter to drive traffic to your blog. It's from a recent webinar. You can get the entire training at the following link if you wish to learn more about Twitter. If you do take the training be sure to join my group to ask any questions you have.
Also, hashtags rule. If you want to insert your Tweets into conversations that are happening on Twitter then use two hashtags to extend your reach. They will help you show up in the search results if someone is mining Twitter for specific data. Hashtags will help you get noticed in real time on the site I mentioned previously–Tweet Deck.
Next, let's look at Pinterest.
Pinterest
Pinterest is a very interesting social media platform. I've never been on any other platform where you have to communicate through pictures and graphics. Instagram kind of runs like that, but not really. I'll explain more later.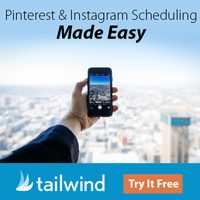 No one really talks to each other. It is the ultimate social media platform for bloggers. Why? Most bloggers are women. We love pretty pictures and brilliant quotes.
Pinterest is set up to make people aspire to be something greater than what they are now. Well…that's how I see it.
Have you ever wanted to try to do those DIY projects you saw on Pinterest?  I have. As a blogger you can capitalize on the aspirations of your audience by making your Pins so engaging they have no other choice but to click, save your Pin, and aspire to do the things that you are teaching on your blog posts.
I have personally seen all of the changes that Pinterest made since its launch in 2012. The new algorithm format is one of those changes. I like it. I am shown more Pins that are relative to the Pins I have on my boards, which is a breath of fresh air. Just 8 months ago I was being shown Pins from some followers that were not my cup of tea. Ok, it was nasty.
Pinterest is an amazing social media platform with potential to help you get traffic for years to come.
Let's move on to Instagram
Instagram
I have a presence on Instagram. I must admit that I am not that great at making all of my post cohesive. I just want to post pretty photos with text.
I have personally found it hard to be authentic and fake at the same time. Let's not forget that you only have one shot to drive traffic to an opt-in page or to a blog post. I have found the engagement on Instagram to be pretty generic. I have had bots send me messages and MLM sellers send me spam messages constantly.
If you're a person that can take tons of photos that make your life seem like a magazine, then Instagram might be right for you. Lifestyle bloggers, fashion bloggers, and food bloggers tend to do pretty well in my opinion.
I tried Instagram for a year and it didn't work like I had hoped. I haven't found a way to translate my blogging content into a stylistic Instagram feed.
There is one platform that many bloggers don't even consider to be a viable place to promote, however I think it is worth a shot. I am talking about Google Plus
Google Plus
If you have signed up to use gmail it is likely you have access to Google Plus. Here, you will find the option to add links to your social media profiles, stores, and your blog. I don't know much about Google plus there are a number of communities that you can use to promote your blog in your niche. I am there regularly. I want to leave you with this link to discover more about Google Plus–How to Drive Traffic With Google Plus. Hopefully, this post will help you consider to start promoting on this platform. 
What I have Learned About Promoting on Social Media
Although I have been on social media since 2005 I just now understanding what it means to do any kind of marketing on social media.
I have learned to consistently research the kind of things my audience is saying about similar posts or problems they are having. It gives me an opportunity to use the phrases and wording they are saying in everything—blog posts, email headlines, sales copy, etc. I have learned that when you repeat the same phrases your audience is saying they will immediately resonate with your message to them.
There is one thing I have noticed about being online is the lack of wanting to be truly creative. I found myself falling for step-by-step formulas to posting on Facebook or Twitter.  I will admit that I bought a template for posting on Facebook to attract clients. It didn't work because I was trying to model someone else's system step-by-step without being ME.
While these things help I realized that I cannot become the one who is teaching me the information. I have to take what I have learned and put my own creative spin on it along with the marketing language from my audience.
Never lose your creativity in posting as your authentic self. Truthfully, it is a shame to see bloggers replicating others blogs. Don't be one of those. Don't be afraid to stand out as yourself.
I have also learned to test everything. Thank God for Post Planner because it has allowed me to automate many of the tests I run. And they have plenty of content for me to test. I have found that if you use quotes from famous teachers or celebrities make sure they resonate with your message. I use the deep thought statuses from Post Planner. I use the quote and expand on the meaning as it relates to bloggers. This comes through researching. When you know the problem you can find quotes that address it. Here are a few tweets to explain what I mean. Notice the re-tweets and analytics.
I'm getting better at finding quotes that truly resonate with my audience.
Good morning! It's hard to speak the truth sometimes. Do it in love. pic.twitter.com/RYtEMdK6ab

— KatinaDavenport (@deskkdavenport) July 19, 2016
Family: A unit composed not only of children, but of men, women, animals, and the common cold.
–Ogden Nash "Such as life." #momlife

— KatinaDavenport (@deskkdavenport) July 12, 2016
Conclusion
I wanted to leave you with this: an effective and successful social media marketing campaign is congruent with growing a successful blog. Successful marketing begins with researching and knowing how your audience speaks about their pain to include in your messages online. I have learned this from my coach and from books on social media marketing in particular Social Media Marketing Workbook: 2016 Edition. How to Use Social Media for Business.
The title mentions that is for business but if you are monetizing your blog you have a business. The reading and the exercises were very helpful. I can now post on social media knowing that my posts are working.
Has this post helped you? Leave me your comments and feedback. Remember to share with others who can use this post and who would enjoy the resources.